When Udona and Chuck Hebert tied the knot in 1995, they had their hearts set on building a family of their own.
However, those hopes were quickly dashed when doctors told them that Udona's body "naturally aborted embryos." The newlywed couple from Kaplan, Louisiana, was absolutely heartbroken to hear that children "just weren't in the cards" for them, according to a report by PEOPLE.
"We were both really bummed, of course," said Udona. "Chuck was so good with kids and I knew he would be amazing as a dad, so it has always upset me."
Chuck and Udona kept trying for 20 years despite the ominous diagnosis from the doctors, but with each passing year, it seemed to become clear that maybe they were right after all.
"I had always wanted children, but we moved on with life in our own way," Chuck told PEOPLE. "We get along and love each other, of course, but it always felt like there was something missing from our lives."
They hosted exchange students, babysat, and played with nieces and nephews in an attempt to partially fill the void in their childless home, but they always felt like they had so much more love to give.
Then, in January 2016, a dizzy feeling came over Udona, and she began to get strange stomach pains and cramps. Because she didn't think she could get pregnant "in a million, million years," she was afraid that she could be experiencing cancer symptoms.
She didn't want her husband to worry about her, so she kept the secret to herself.
"It sounds silly, but I thought I had some form of cancer or infection," she said. "I didn't tell anyone about my ailment because I didn't want Chuck to make a fuss over me. I prayed every night, in silent prayer, that I would get better."
She started to feel "fluttering" in her stomach in late November 2015, and soon the morning nausea and all the other symptoms were too much to ignore. Her mom and friends convinced her to take a pregnancy test and BOTH came back positive.
Still in complete shock, she FaceTimed her husband right away with the unbelievable news!
Chuck totally thought he was being pranked at first. "In my head, I was thinking there was no way we were being blessed with a child!" he told PEOPLE.
But just four weeks before Udona's due date, the couple had it confirmed by the doctor that they would soon be expecting their very own little bundle of joy!!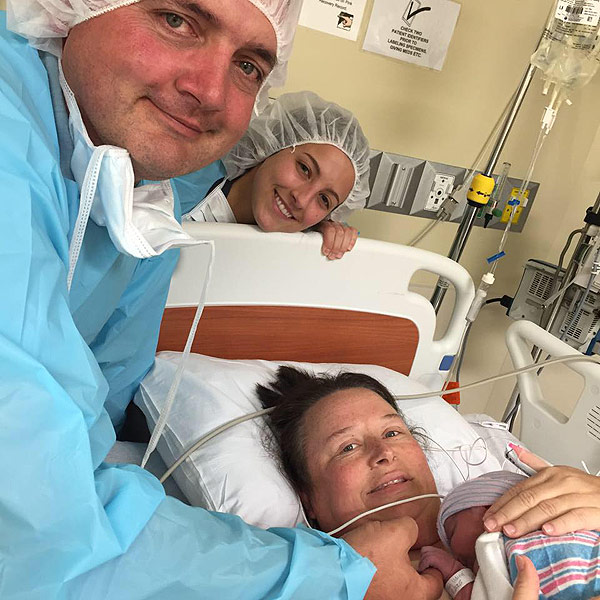 Photo credit: Udona Hebert
Meet Brooks Major Hebert, born February 15, 2016.